Faster and more cost-effective than traditional building methods, modular or prefab has a bright future ahead in the construction arena, with real estate developers in a perfect position to lead the

charge.

Has your company made the switch yet? Find out why you should!
What is Modular Construction?
Modular construction refers to a type of building method where components (such as panels, beams and columns) are built offsite in a controlled factory setting, built into pods or modules and then transported to the jobsite for easy assembly.
In more detail, according to the Modular Building Institute (MBI):
Modular construction is a process in which a building is constructed off-site, under controlled plant conditions, using the same materials and designing to the same codes and standards as conventionally built facilities – but in about half the time. Buildings are produced in "modules" that when put together on site, reflect the identical design intent and specifications of the most sophisticated site-built facility – without compromise.
Modular construction allows for the building and the site work to be completed simultaneously. Meaning that walls, stairs, floors, pods and more can be built ahead of time and as soon as the foundations are complete the structure is ready to be assembled on the jobsite.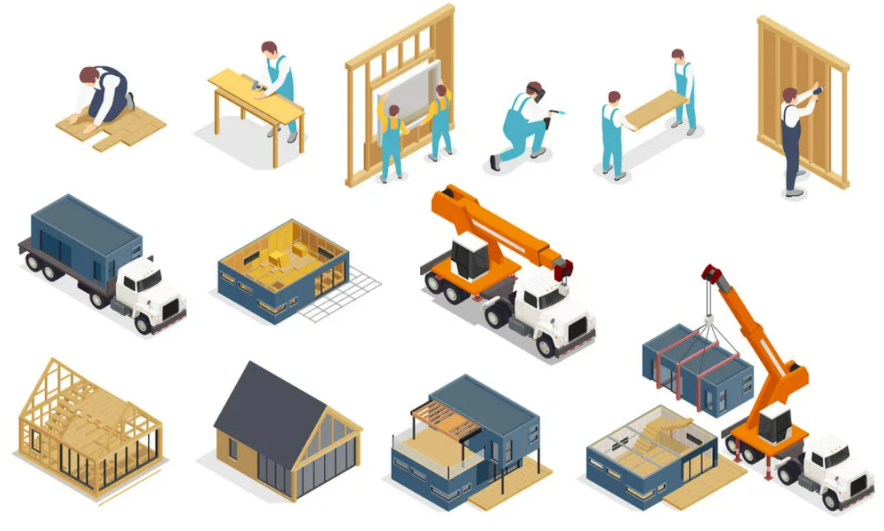 Allowing developers to build up to 50% faster than ever before – modular construction is

a no brainer.
Why, you may ask? Keep on reading to find out more!
Modular construction is greener and more sustainable.




Since modular construction is essentially modules being repeated over and over, builders have more flexibility and reuse of components. Additionally, prefab construction is notorious for less material waste because panels are produced with precision lead CNC machines and prefabricated construction reduces a building's carbon footprint by using modules. Meaning that, modules make better use of materials, are more cost-effective, and do not create as much wastage compared to traditional construction.

Offsite construction is more efficient and safer
Building offsite eliminates weather and site delays (i.e. snow, rain) and creates a more stable work environment for all employees. Additionally, in a controlled factory environment, higher health safety measures can be implemented. By building indoors employees are far less subject to the risks—legal and financial—inherent with traditional site accidents. Not only that but, thanks to a controlled environment and regular quality checks, a higher quality assurance system can be put in place. Materials used are all machine produced and have little to no human interference, unlike traditional construction
Prefabricated panels are 'smarter'Prefabricated panels are built using building information modeling (BIM) software which means that panels are better engineered and there are limitless design opportunities.

Often known as a "boring" style of build, modular construction has come a long way in the last few years. Designs can be completely tailored to the client's needs and offers a wide range of designs to pick from.

Check out this video from our CNC partners Howick assembling a bathroom pod:
How Can Developers Take Advantage of Modular Building?
Essentially, shorter build timelines inherent with modular construction helps to mitigate risk, since the developers' time and money is not tied up in empty lots for that long (as seen with traditional methods). "Furthermore, developers have what modular suppliers need: a forward-looking pipeline and control of the product to put through it" according to the McKinsey & Company.
With that said, making products that are repeatable for efficient factory production is critical. For example, developers can repeat rooms (like bathrooms or even condos and hospital rooms) to reduce the need for factory alterations (i.e. rejigging CNC controllers to accommodate different types of profiles). In order to benefit from modular construction, developers need to stray away from operating on a project-by-project basis and begin to create a pipeline of repeatable projects. Establishing a design that can be reused means less time in the design phase and there fore more output. Not to mention faster turnaround for less of a cost.
Developers will face many challenges, that is true, but for those willing to take the risk the potential reward is undeniable.

How Can Revit Framing Software Help?
StrucSoft's flagship solution, MWF, has built in modular capabilities. Using MWF, users can model, coordinate, engineer and manufacture wood and light gauge steel panels easily. From there users can upload their framed Revit® project to our cloud production management software, ONYX, for easy sequencing, scheduling, stacking, editing and CNC output from any web enabled device in the world.
Learn how to use the Modular Tool in MWF here:

For more information on our products or design services, visit strucsoftsolutions.com, email us at info@strucSoftsolutions.com or call us at 514-538-6862

---

StrucSoft Solutions| Graitec Group is the market leader in comprehensive Autodesk® Revit®-based BIM framing, with both off-the-shelf and custom solutions targeting the AEC and fabrication sectors. Our star solution MWF simplifies complex Revit® framing with its powerful range of tools for modeling, inter-trade clash detection, custom construction documentation and optional output to CNC machines.