If you want to create new parts or components, you can use two main manufacturing methods: 3D printing and CNC machines.
Although these machines share several similarities, they don't all perform the same processes. Read on to learn the main similarities, differences, how Revit manufacturing software factors in, and the uses of these machines.
Let's get rolling!



What is a CNC Machine?
A Computer Numerical Control (CNC) machine is known as a type of subtractive manufacturing. This is because CNC machines take a large piece of material, like aluminum, cut it and punch it until it achieves the desired shape. The computer performs these tasks by leveraging digitized data to generate automated movements.
Then, a program is used to control machine tools (like mills) to cut, grind, mill or drill these materials without the need for manual labor.
CNC systems can be used on all sorts of machines, from large industrial ones to small-scale operations. This could be anything from machine welders and axes to waterjet cutters and metal stamping machines.
CNC machines are typically used in the automotive, aerospace, and jewelry industries to remove excess metal from materials and mold them into shape.
Different Types CNC Machines and Use With Revit Manufacturing Software
Each CNC machine caters to a different purpose. As a result, there are a variety of machines available, but the most common are: 
• Milling Machines – For face milling, shoulder milling, tapping, drilling, and more.
• Lathe – Used to produce round-shaped pieces with an outer and inner diameter.
• Router– Can cut steel, aluminum, plastics, composites, and foam.
• Plasma Cutter – This process uses a plasma torch to cut through heavy materials like steel and other metals.
• Electric Discharge Machine – This machine involves creating a specific shape in a material using electrical discharges or sparks.
The technology for CNC and 3D printers is evolving rapidly, and companies are offering a range of different solutions to users looking to streamline their production processes.
For example, StrucSoft Solutions have created Onyx. This allows users to upload a Revit project into a cloud server to quickly sequence, schedule, edit, and CNC output from any web device without downloading the Revit manufacturing tool files.
<< Check out our CNC modules here >>
What's a 3D Printing Machine?
3D printers or printing machines are used to manufacture three-dimensional objects from digital files. These machines are renowned for their speed and accuracy, and they're commonly used to create prototypes for businesses.
3D printers work in a similar way to your standard printer. So, for example, if you wanted to print an image of an object from a regular printer, this would emerge as a one-dimensional portrait on a flat piece of paper. 
With 3D printers, a 3D model of the image or prototype is created one layer at a time, from the bottom up, using fused depositional modeling (FDM).
Once the printing process is finished, a complete, three-dimensional object has been made. Usually, the printer creates this model over several hours, carefully transforming a 3D Computer-Aided Design (CAD) drawing into different 2D cross layers. 3D printers have created multiple objects, including shoes, toys and tools.
These layers sit on top of each other and are fused with molten plastic or powder instead of ink.
3D printing is also  known as 'additive manufacturing.'  This means the process involves adding material to an object rather than subtracting it. 
Different Types of 3D Printers
There are several types of 3D printers available. The most common are: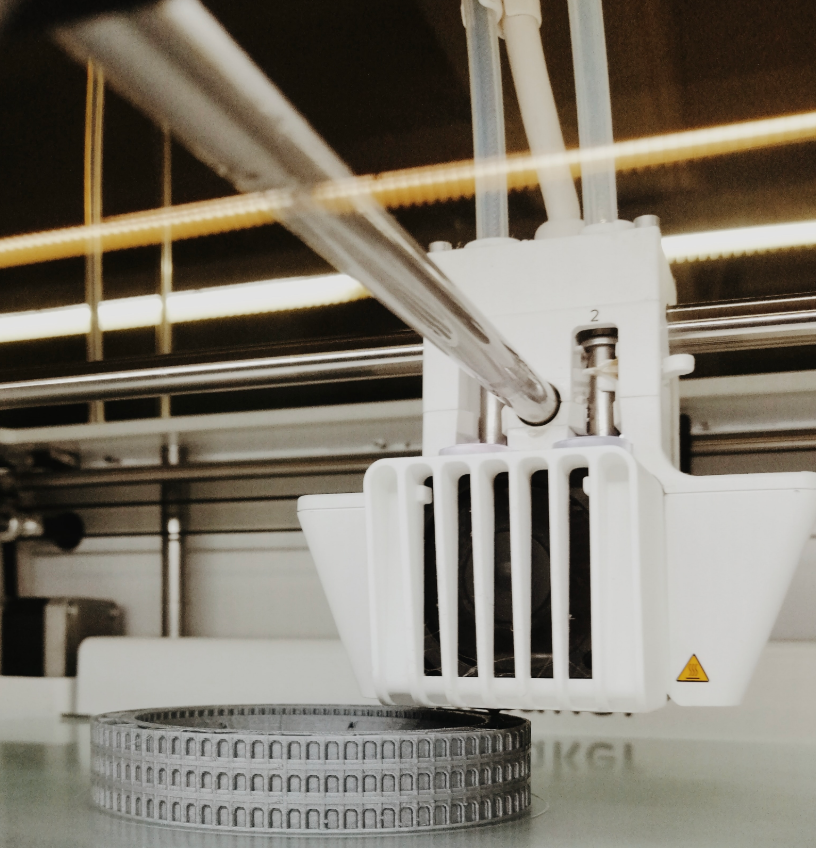 • Stereolithography (SLA) – The standard 3D printing process. These printers work best at producing great detail, smooth finishes, and high-tolerance surfaces.
• Selective Laser Sintering (SLS) – This printer melts nylon-based powders into solid plastic. The process is mainly used to develop prototypes.
• Digital Light Processing (DLA) – These printers cure liquid resin using light. They're capable of imaging an entire layer of the build at once.
• Multi Jet Fusion (MJF) – MJF printers build functional components from nylon powder. These printers use inkjet to administer fusing agents to a base of nylon powder. A heating element is then passed over the bed to fuse each layer.
3D Printing and CNC Machines – The Similarities
First, let's look at their similarities:
Both machines follow instructions from a computer.
They both make 3D products based on 3D models – In CNC machining, these are primarily STEP and IGES formats.
Both are compatible with file types like OBJ and STL.
Both methods can use Revit manufacturing tools, a modeling software for architects, engineers, and more.
3D and CNC Machines – The Differences
Now, let's take a peek at their differences:
3D printers create objects from scratch, CNC machines carve objects from existing bodies of material.
CNC machines can create parts and components of various sizes. With 3D printers, the parts you create can not be any larger than the printing bed, which can be limiting.
3D printers only work with one material. CNC machines work with various materials, from metals and alloys to wood and wax.
The labor requirements for CNC machines mean that work is often delayed or unable to start quickly. With 3D printing, the work can begin within a matter of hours.
CNC machines usually cost more to run and create prototypes with. 
Need Help With CNC and Revit Manufacturing Software?
CNC machines and 3D printers are both at the forefront of technological advancement. They offer users practicality and possibility beyond the traditional scope of manufacturing; however, their processes aren't identical.
If you need help understanding CNC machines or Revit manufacturing software, contact StrucSoft Solutions today for more information.
See for yourself how design software and CNC machines go hand in hand:
For more information on our products or design services, visit strucsoftsolutions.com, email us at info@strucSoftsolutions.com or call us at 514-538-6862.
---
StrucSoft Solutions | Graitec Group is the market leader in comprehensive Autodesk® Revit®-based BIM framing, with both off-the-shelf and custom solutions targeting the AEC and fabrication sectors. Our star solution MWF simplifies complex Revit® framing with its powerful range of tools for modeling, inter-trade clash detection, custom construction documentation and optional output to CNC machines.