Identify and resolve early project phase issues with our latest BIM collaboration tool: FrameLab
Imagine for a moment: as a hard-working construction professional who has spent years working hard in your field, you've been given the lead of a new project. Lots of teams, multiple disciplines, tight deadlines, all the good stuff.
The very familiar coordination meetings you were once a part of are a thing of the past. You're now the one leading them and there aren't just a few coordination meetings, but multiple a month.
Many teams participate, some that joined today's meeting won't be there in the next one. Multiple issues are discussed and team leaders note down their takeaways for further review. However you soon realize monitoring those issues is not that easy.
Things have gotten a bit awry within the teams, they're unsure whether changes were made around openings in the latest model version, and if so – which ones? Does MEP need to re-coordinate with the structural team again?
A few days into construction, the general contractor ends up finding clashes that now need to be reworked. It's going to take time to re-work, and it's going to be costly.
Yes, this little story is fictional, but not entirely. It's a collection of real issues that over the years teams have encountered in their projects . The question we naturally asked was – is there a solution to help teams avoid such issues later down the road?
This question became the genesis of a new tool, created to identify and resolve issues related to openings, during the early stages of the project. In this blog post we will introduce FrameLab, and how it helps teams save time through improved coordination, and save money by avoiding costly rework later on.
Visualize and Create
A crucial reason why teams are prone to encountering errors around critical masses, is the absence of an early phase model that can be visually inspected and updated by multiple disciplines.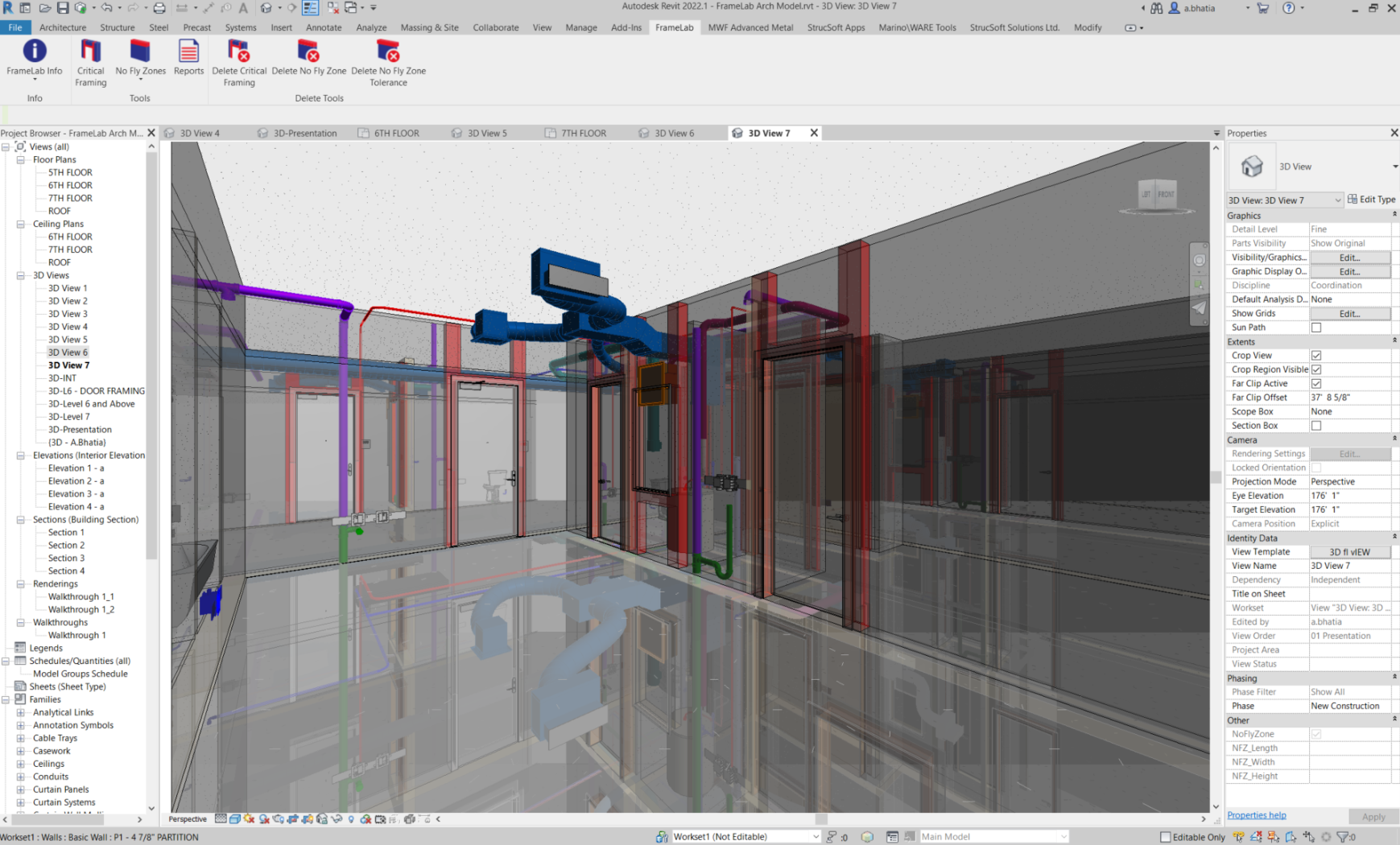 The ability to view multidisciplinary elements along with framing in a single model, is essential in providing teams the context and valuable information they need to make informed decisions.
For example, when you are working on zones that are heavily populated with elements from other disciplines such as corridors or bathrooms, the ability to clearly visualize and understand where each piece fits together can come in quite handy.
Engage Stakeholders and Teams
What's another benefit of better contextualized early-phase models? Namely the ability to engage team members who do not work with BIM models directly, yet the success of your workflows heavily depends on their input.


Work With Real Time Updates
While we're on the subject of involving stakeholders and teams, it's worth mentioning that FrameLab works with linked models. This allows you to easily share access with external consultants in case they are brought on-board to resolve coordination issues.
Easily create FrameLab elements for linked models on external applications such as Autodesk® Construction Cloud without having to download them. Any modifications made to these files will be updated live – ensuring that you are always working with the most up to date model.

Create openings

FrameLab however is not just a visualization tool. Keeping in line with our affinity for workflow automation and minimizing repetitive manual workflows, this tool is able to create openings for entire levels after defining measurements, in just a few clicks.
Fun fact: During testing, generating openings for an entire floor on a reasonably decked machine took 35 seconds. Performing the same workflow manually would normally require teams to put in hours or days of work.
Multidisciplinary coordination: MEP, Structural, Architectural and more.
The next 'pillar' of FrameLab is to enhance coordination between multidisciplinary teams, which is achieved through tolerances, no-fly zones, coordination reports and making models ready for clash detection.
Prevention is always better than cure, and this adage applies to clash detection as well. Tolerances and no-fly zones can be placed at an earlier stage to help you minimize the occurrences of clashes, instead of having to detect and resolve them later down the road.

No-Fly Zones
No-fly zones allow you to place spatial barriers around structural framing masses in the model, allowing you to maintain sufficient spacing around multidisciplinary zones and preventing the addition or modification of additional elements. This applies to highly sensitive areas such as fire rated spaces, or enclosed ones such as stairwells.
Tolerances
Tolerances allow you to create spatial barriers around individual elements in the model, with user defined dimensions. Some intended use cases are to coordinate workflows which mutually impact other teams, for example, defining tolerances around MEP equipment prior to placing critical elements in the model such as sleeves in slabs.
Tolerances help you make a seemingly tiny adjustment at the start of the project that will have a significant impact throughout its lifecycle. For example, you can define tolerances around MEP equipment that would require periodic maintenance. This would ensure adequate spacing for maintenance personnel to better carry out their job, as opposed to having difficulties accessing said equipment
Coordination Reports
Keep teams on the same page with coordination reports. By utilizing coordination reports, users can identify changes between different model versions using metrics such as height, width, location, type and more. You also have the ability of sending changes and/or edits to other team leaders for approval, or flagging elements for review.
The reports can be exported to PDF or .CSV formats, or directly to the Autodesk® Construction Cloud enabling you to work in the cloud.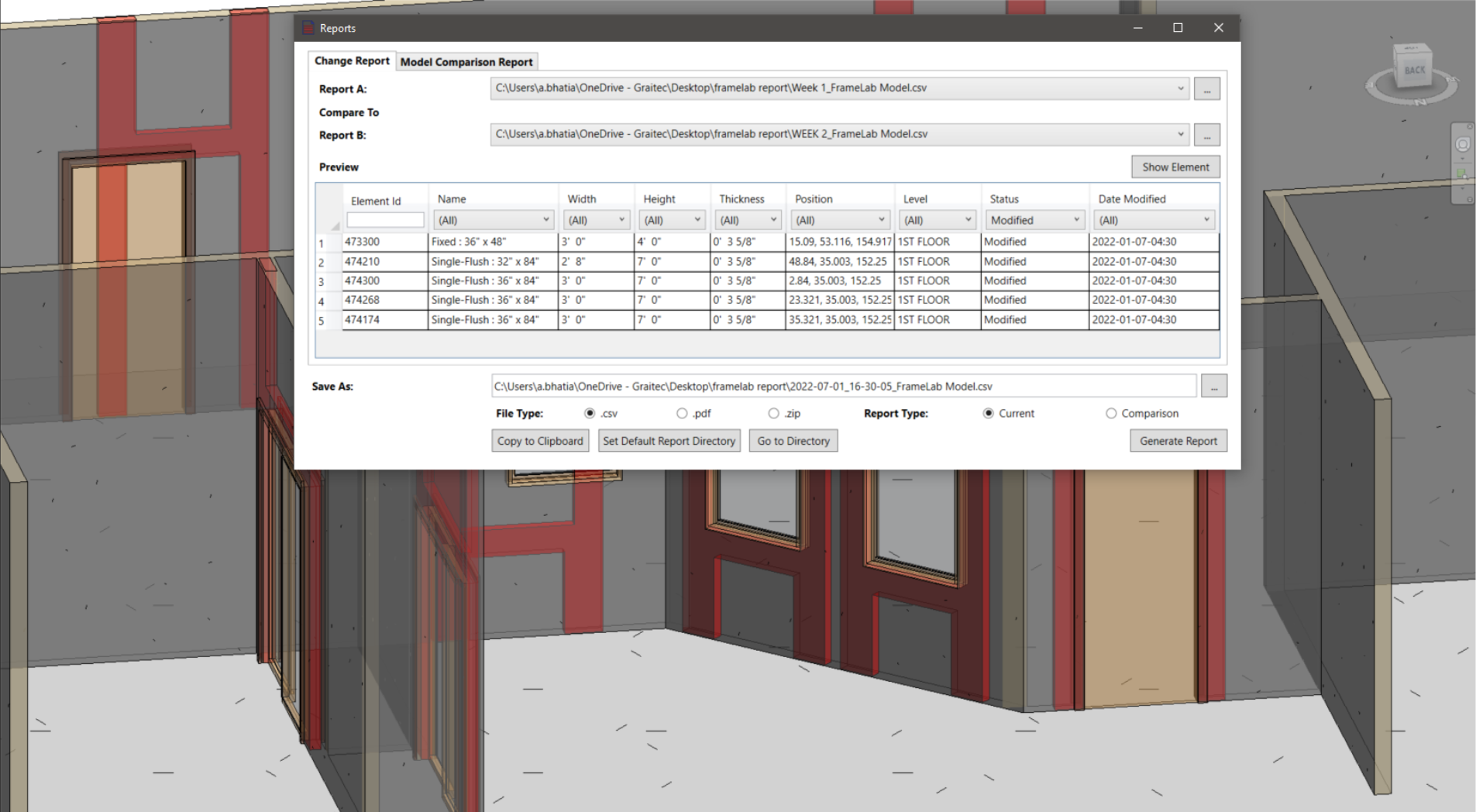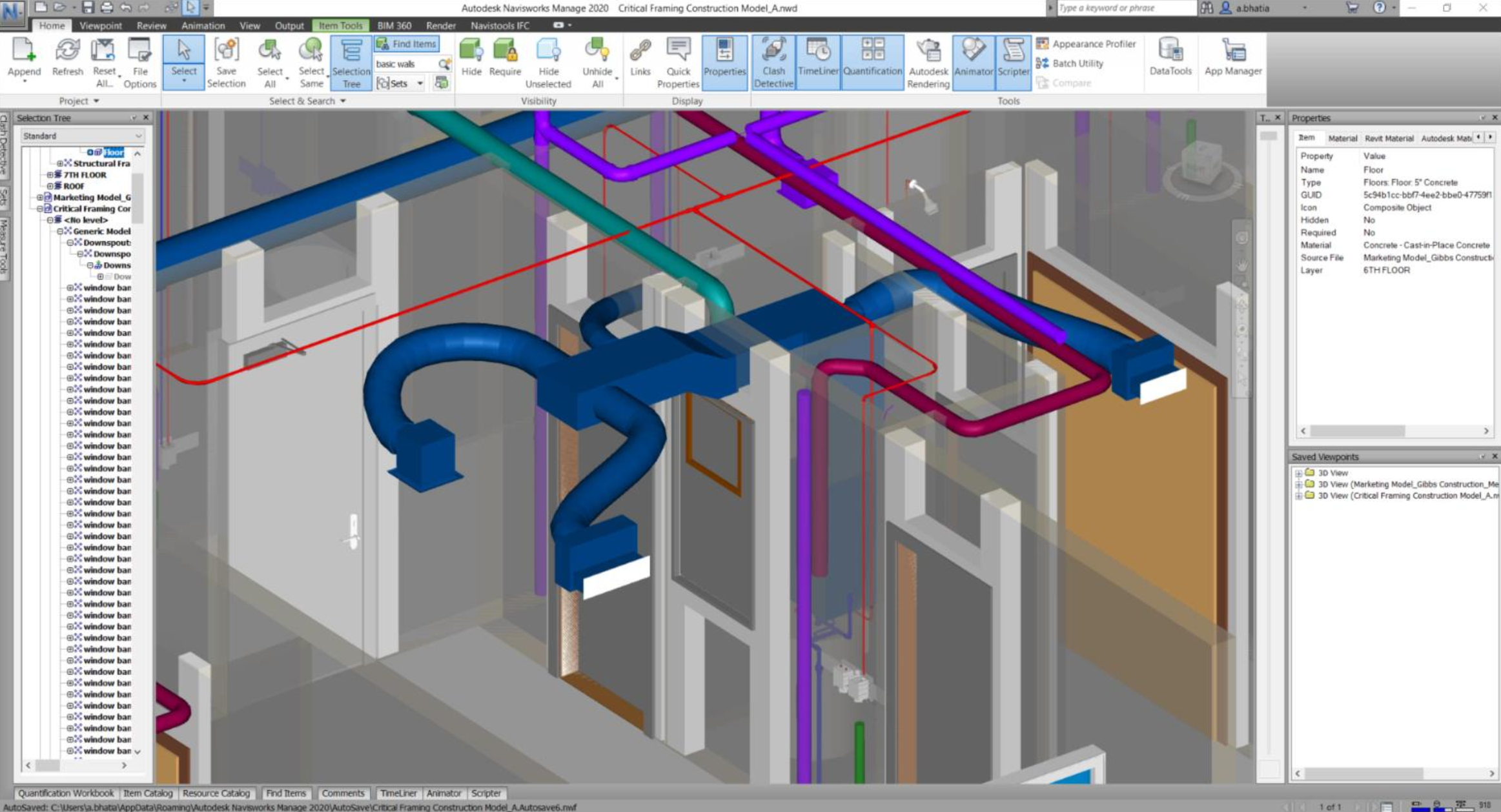 Clash Detection
Once you are satisfied with your models, you can upload them to external applications such as Navisworks® or Autodesk® Construction cloud to smoothly transition into clash detection workflows.
Developed in partnership with PCL Construction
"What we are trying to solve here is the challenge of critical framing around openings. [FrameLab] allows for easy selection of openings in several ways to create the critical framing and then also to know if it is related to current model objects or linked model objects. If a link gets updated and those openings change, how can we understand that that opening changed and that there is now a possible conflict? Whether it is the size of the opening or the location of the opening. How can we understand how that impacted the critical framing? This is what StrucSoft is trying to solve with this app."

– Daron Denton, Manager, Integrated Construction Solutions, R&D, PCL Construction North America
View FrameLab in Action
Check out the launch webinar with industry experts from VIATechnik, Autodesk and PCL Construction:
Get FrameLab
Interested in giving FrameLab a go? Visit this page to download and try out the free 15 day trial and explore its features.
For more information on our products or design services, visit strucsoftsolutions.com or email us at info@strucsoftsolutions.com.

---
StrucSoft Solutions is the market leader in comprehensive Autodesk® Revit®-based BIM framing, with both off-the-shelf and custom solutions targeting the AEC and fabrication sectors. Our star solution MWF simplifies complex Revit® framing with its powerful range of tools for modeling, inter-trade clash detection, custom construction documentation and optional output to CNC machines.