MWF Training with Cocoon
Up until now, we haven't done a great job of keeping you informed on our blog. Let's fix that. We're excited to introduce a new series focused on new and existing MWF users. First up: Cocoon

With over 20 years of experience with lightweight steel framing and construction, The Cocoon team, based in Switzerland, provides a high standard of LGS (light gauge steel) design into modern commercial and residential buildings.  
The Cocoon lightweight steel framing system presents limitless possibilities and is a great option for new constructions, adding floors, or building extensions. Besides the packaging of the buildings sets and semi-finished products, Cocoon's planners and engineers also create feasibility studies, statistics for projects as well as execution and assembly plans – supporting projects from inception to realization.
Cocoon's steel frame engineering provides the capability to insert their style of design into a variety of different building projects. 
For example, the ÖAMTC Headquarters in Austria demonstrates Cocoon's lightweight steel profiles being implemented to the building's structural core of the wall in order to withstand the building's widespread spherical shape.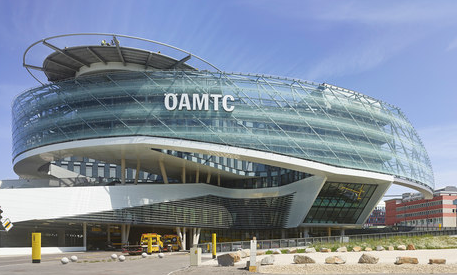 Implementation of the software
Specializing in several different styles of construction ranging from large one-off manufacturing to modular designed units, the Cocoon team has just begun to implement MWF Pro Metal to help achieve challenging detail work and a more fluent style of architectural design.  
One of the major reasons Cocoon started using MWF was because of the quick manner framing elements are applied to a Revit model. When speaking to one of Cocoon's engineers, David Marity,  MWF was described as "fast, efficient and of a high standard" shifting focus from tedious framing tasks that other software provided. Eager to test the functionality of the software and to see what extent MWF can be utilized, our team jumped in and began training. 
MWF training highlights:
Details such as window and door openings (which were manually applied before) are now consistently added by the use of the opening marker tool. 
MWF's MultiLayer function provided a quick method of presenting the different information (i.e. quantities and view positioning) required through multiple types of formats. 
Templates were quickly created throughout the project which allowed for the fast application to walls not only in the current project but throughout future developments which require the same standard of wall detailing. 

Unique joins were easily replicated in the software and were later applied to specific areas of the project. 

Prior to the use of the MWF software the team was limited to the style of light gauge steel framing that they were able to produce. With that said, Cocoon's workflow began to significantly improve once the implementation of the software had fallen into place.
Going forth the company would like to eventually develop onto a CNC output for sheathing and hope to become more advanced in MWF's MultiLayer application with the help of our team.
 Welcome to the MWF squad, Cocoon!
---
 Stay tuned for more insights on what goes on behind the scenes at an MWF training session.  
For more information on our products and/or services visit our website, email info@strucsoftsolutions.com or call our office at 514-538-6862.