Our development team has been hard at work and we're happy to announce that our summer build, version 2.37 (7543) is now available! Head over to your portal page and download the newest version of your MWF module today.
Here's what has been released in version 2.37 (7543):
Walls:
1. MEP Clash – Sheathing support added to the MEP Clash command
The option to cut sheathings (rectangular or round cut) will be available in the MEP Clash Hole Series Mapping.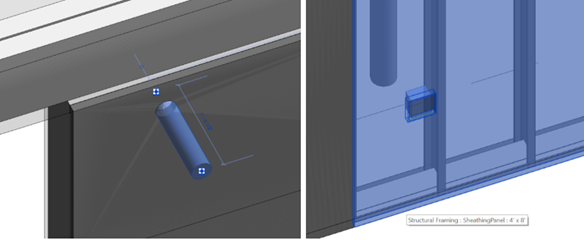 2. Set Panel Category
Set Panel Category will be available under the Edits drop-down menu, the information assigned to the panel will appear in BIMSF_Category parameter in the members properties.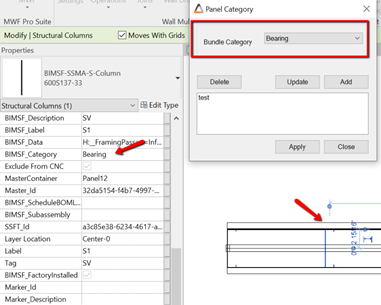 3. Fastener Count Tool
The user will now be able to add Fastener Count information to panels. There will be one tab for Framing fastener count and another for Sheathing fastener count. After adding the information, the user will be able to generate schedules through the new Shop Drawings engine.
For the framing fastener count, users will be able to add information: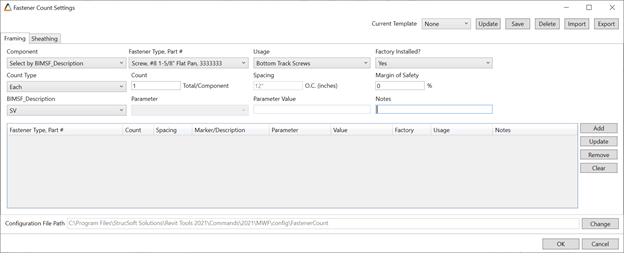 For the Sheathing Fastener Count, user will be able to add information using Edge fastener and/or field fastener: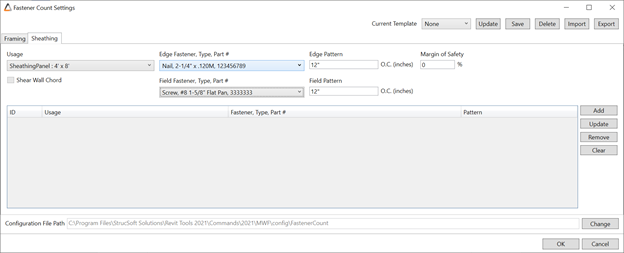 4. New Extra Verticals marker options
A new option to tag members will be available in the Extra Verticals marker. User will be able to select the stud type for each member of the marker.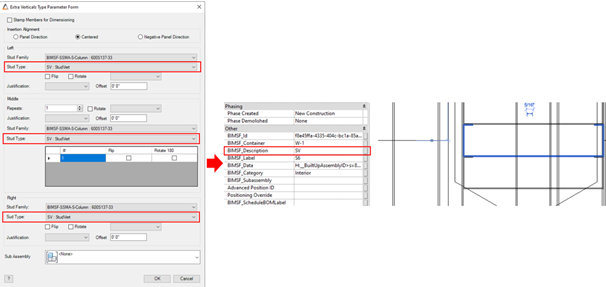 5. Telescopic

configurations
This new tool will allow the user to assign telescopic configurations to Marker Lines. Telescopic Configurations will be located under the Tools drop-down menu and user will be able to create settings for Horizontal and Vertical lines.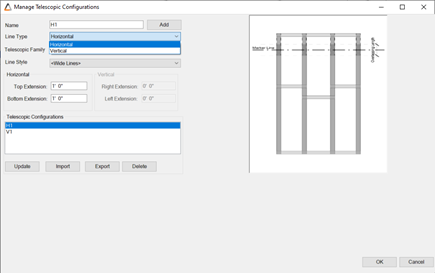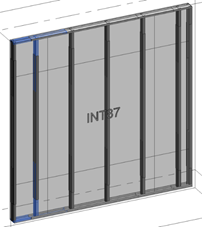 6. New Create Marker Lines UI
The new dialog box will have two tabs: one for creating horizontal Marker Lines and another for vertical Marker Lines. The user will have some new options such as being able to specify the number of lines needed when using Regular Spacing, and the ability to assign Telescopic settings to the marker lines.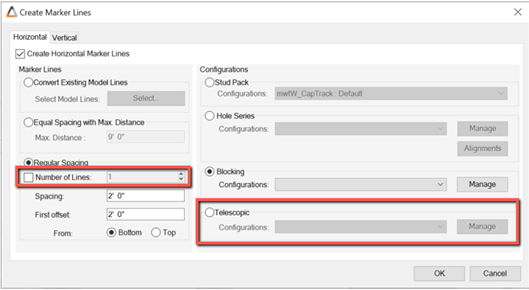 7. Replace Simpson DLL with Web implementation: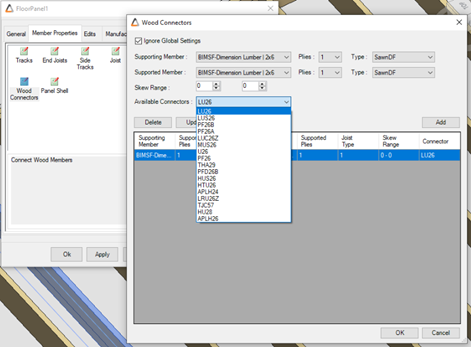 8.

Adding cut angle values to the properties of a wood members
When creating sloped panels with wood members, cut angle values will get automatically assigned to the members properties. These parameters will be available in Shop Drawings tool to be assigned to the Custom schedule accordingly to the user's needs.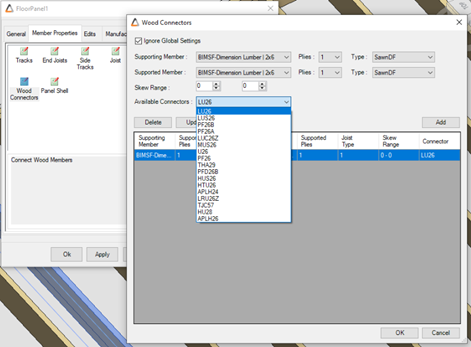 9. Options added to Header – Top of Opening in Multisystem Marker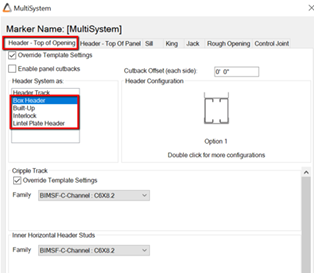 The same options available in "Header – Top of Panel" will be now available in "Top of Opening". User will be able to see all the options by double clicking on top of the following options:
Box Header

Build-up

Interlock

Lintel Plate
10.

Infill Header implemented in Multisystem Marker
The user will have a new option to add a Header placeholer to the Multisystem Marker. It will be possible to add a Label to the Infill Header as well.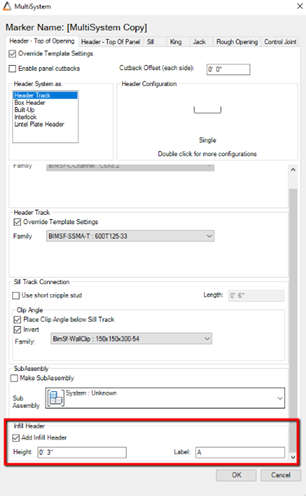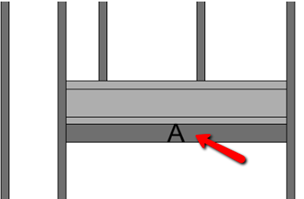 11.

New Framing Lock command
A second locking option was added to the pre-existing Lock Panels command.
The Framing Lock option will allow user to lock the panel but still run some commands, which are the following: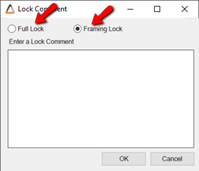 Edit Hole Series
Regenerate Hole Series
Delete Hole Series
MEP Clash
Remove Existing MEP Hole Series
12. New HCR Simpson Lifting Hole Tool
The New HCR Simpson Lifting Hole will be located at the drop-down list of the existing Lifting Holes tool. The user will have the option of placing lifting holes and clips using Center of Gravity or User Selected options. In both situations the tool will automatically calculate the Center of Gravity of the panel, placing a generic model that refers to the location of the CoG along with the lifting holes and clips.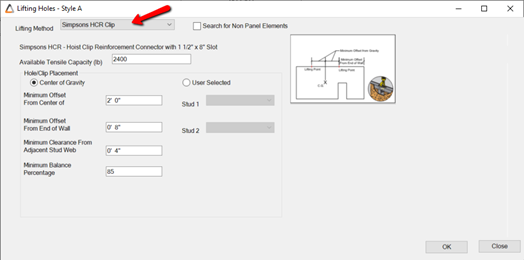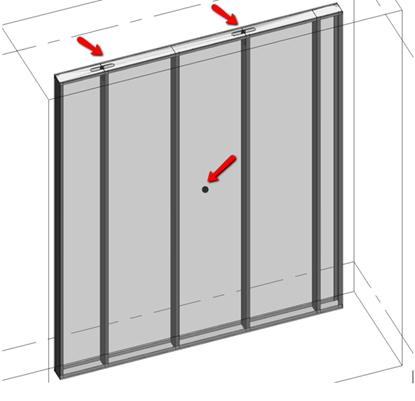 13.

Add Visual warning for Lifting Holes to be rerun upon modifications to the panel
When changing a panel that has Lifting Holes assigned to it, a visual warning will appear to remind the user to re-run Lifting Holes too, allowing the center of gravity and lifting holes placement to be modified accordingly.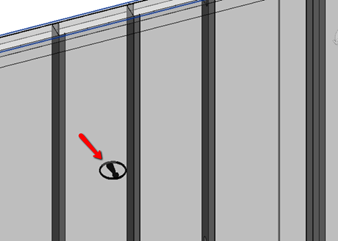 14. Add/Edit Lifing Holes command in Tools drop down menu
Lifting Holes tool will be also accessible though Tools menu.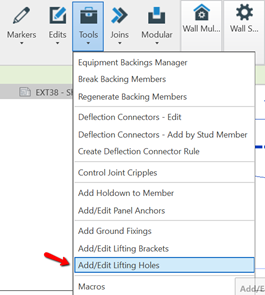 15.

New Clip Setting
The option of adding clips through Horizontals tool has been reformulated, it has more flexibility and covers several situations.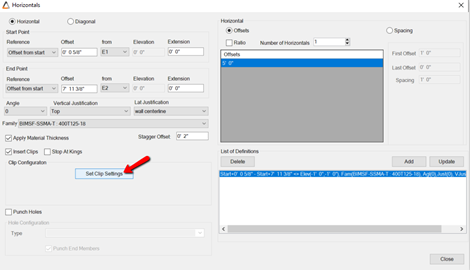 User will be able to select which members to apply clips as well as which side of the members the clips will get placed. It is also possible to add more than one set of configurations to the same panel.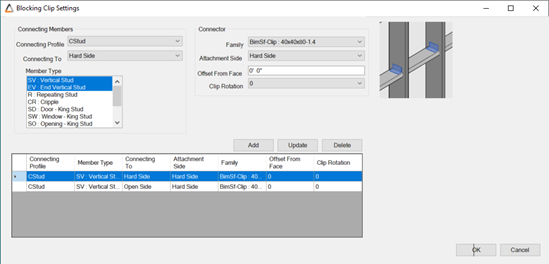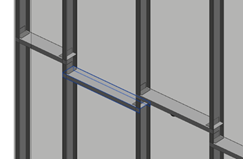 New ability to apply clips to rotated 90 degrees studs: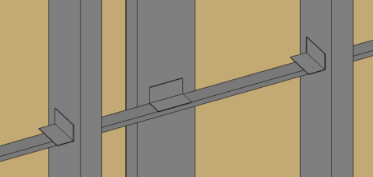 16. Add Nested Stud functionality to HStud Marker
This new option will allow the user to add nested members to the HStud Marker settings. It will be possible to determine the length and family of the nested stud.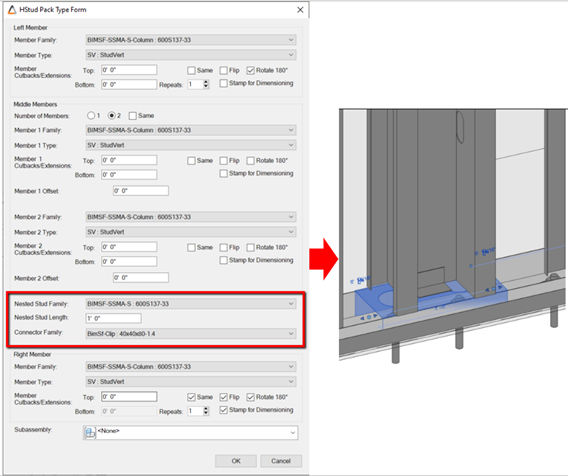 Shop Drawings
1. Shop Drawings Multilayer + Standard:
Shop Drawings V1 has been replaced by Shop Drawings V2. Now the user will be able to generate drawings for both Multilayer and Standard walls using the same tool.

2. Shop Drawings – Gather Sheet implementation:
The user has now the option of gathering shop drawings for several panels in the same sheet, this feature is available for Elevation and Floor Plan views.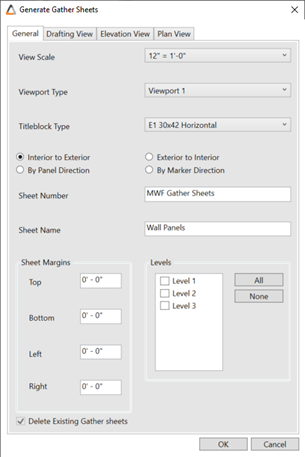 All views will get generated using the same previously determined settings: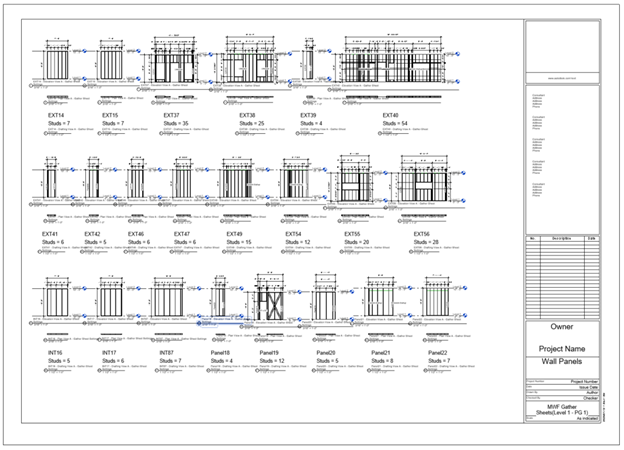 3. The option of placing Header Placeholder labels will also be available in the Gather Sheet tool: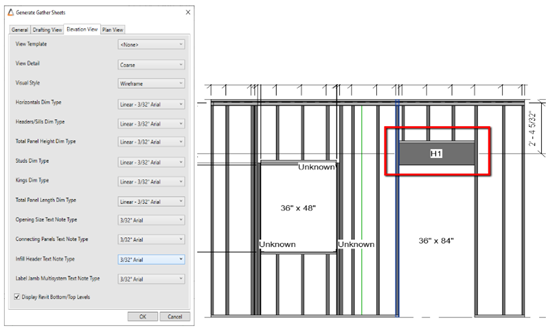 4. Manually added annotations will now get saved to view and will remain after refreshing drawings: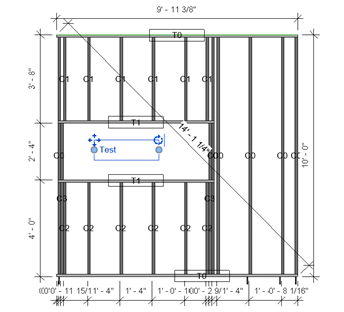 5. A new dimension option will be available for angled braces: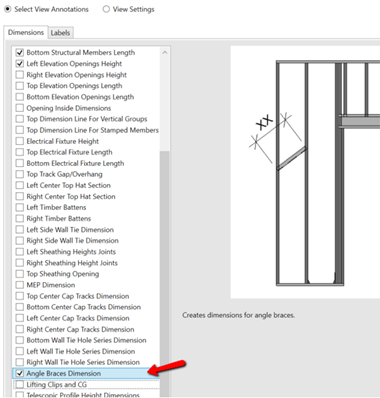 6. New dimensions for Lifting Holes and Center of Gravity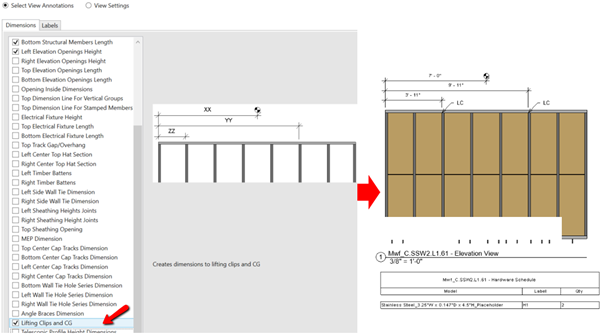 7. Fastener Count view will now be converted to a Revit Schedule.

8. Dimensions for Telescopic panels: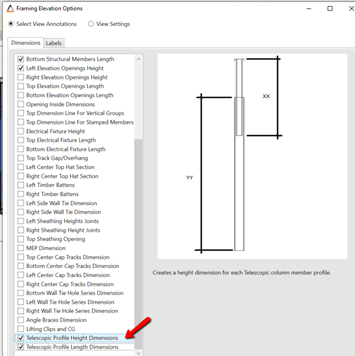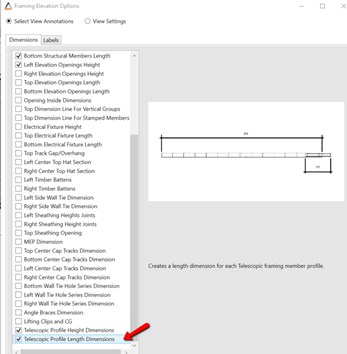 9. Fastener Count Schedule for Walls
After adding data to the new Fastener Count tool, user will be able to generate fastener Count schedules. There will be the option to generate the schedule for framing or sheathing fastener count and to groups it by Fastener Type or Usage. There will also be two new optional fields available: Factory/Field and Notes.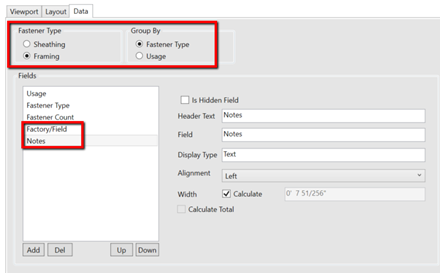 10. Shop Drawings V1 settings import tool
The user can still import their V1 settings using the new Shop Drawings engine. This option will be available in the Wall Drawing Operations drop-down menu.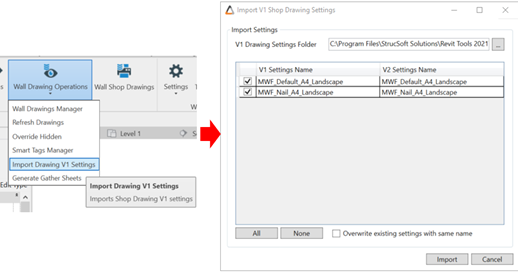 Floors:
1. New Floor MEP Clash
MEP Clash tool on the Walls Menu will now support floor panels as well.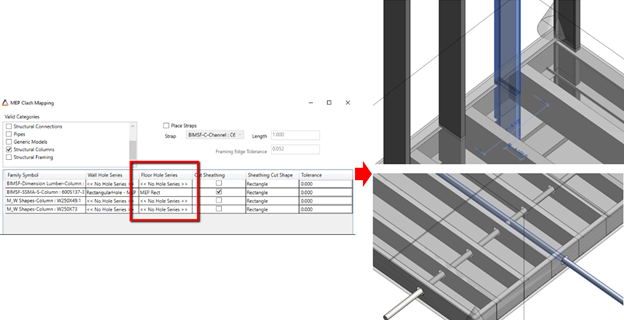 2. Calculate Panel Weight/CoG command
The new command will be under Tools drop-down menu and will allow the user to calculate the Center of Gravity for Floor Panels. There will be also an option to Search for Non Panel Elements, if checking off this option, CoG will be calculated considering pipes/conduits or any other elements intersecting with the panel.

3. Set Joist Hangers
Set Joist Hanger will be located under Tools drop-do