Complete the link between Revit® and machinery.
ONYX allows users to upload their framed Revit® project to a cloud server for easy sequencing, scheduling, editing and CNC output from any web enabled device without ever having to download the Revit® file.
1. Sequencing/ Bundling
Manage and coordinate panel sorting, stacking, bundling and distribution in an efficient and easy way, according to customers manufacturing, construction or sequencing priority
Split into groups by level, section etc

Ability to import an excel file that has the panel sequence numbers already defined

Ability to extract panel information from a project

Allows manually assignment of sequence information into panels

Organize panels in groups (bunks), areas, pallets and/or trucks (trailers) in a semi-automated or manual way

Set properties of a truck or bundle area (maximum size / maximum weight)
Panels can be organized and filtered based on the users criteria.

Further sorting can be done by component.

Once selected the panels can be added to Roll Orders and Work Orders
Scheduling
Detailed Information can be accessed per panel including a viewable version of the Revit shop drawing.

Version history as well as Status is easily viewed for project management and scheduling

Unique alpha numeric bar codes or QR codes can be generated and printed per panel for tracking from factory to site as well as to easily access the panel page view when scanned through a mobile device.
Editing
If necessary, the user can make final changes and edits to the wall panel through a browser based drafting user interface.

Once edits are complete the CSV files can be download right to the roll former or added to a Roll Order and Work Order
CNC Output
Components, or members, can be grouped and sorted throughout multiple panels, allowing the user to create CNC outputs for members of similar gauge, profile or other use case.

Bi-directional communication with roll formers

Ability to read back the live status reporting of the controller

Success on time-control for panel completion

3D graphical operations viewer and editor.

Online routing tool for sheathing. Revit drawing will not require to have full sheathing details.

Sheathing placement with fasteners, generation of welding xml, advanced positioning

Sheathing and CNC relationship is integrated
Cloud production management software
Acts as an extension to MWF Panel Stacker
Cloud based application.

Allows for the batch uploading of selected Wall and/or Floor bundle data. This includes data related to bundles, panels, single components, sub-assemblies along with associated drawings and CNC information.

All uploads from MWF will be deposited into an inbox that can be filtered for duplicates revisions etc., prior to acceptance.

SFM data Manager will allow the user to associate dates
as well as status information to any bundle, panel, subassembly or a single component.

User can generate bundle, panel, sub assembly and part reports on screen and in csv file format.

User can compile (re-shuffle) new AMS CNC files for any combination of components not necessarily in same panel. Example; create a CNC file for tracks only in any number of panels.

Factory layout tool and routing template creation.

Basic scheduling: calculate time required to start manufacturing based on shipping date.

Live production status screen

Labor tracking.

Associate costs.

Ability to upsize member due to manufacturing optimization

Repair kit: remake any number of pieces or some extra members.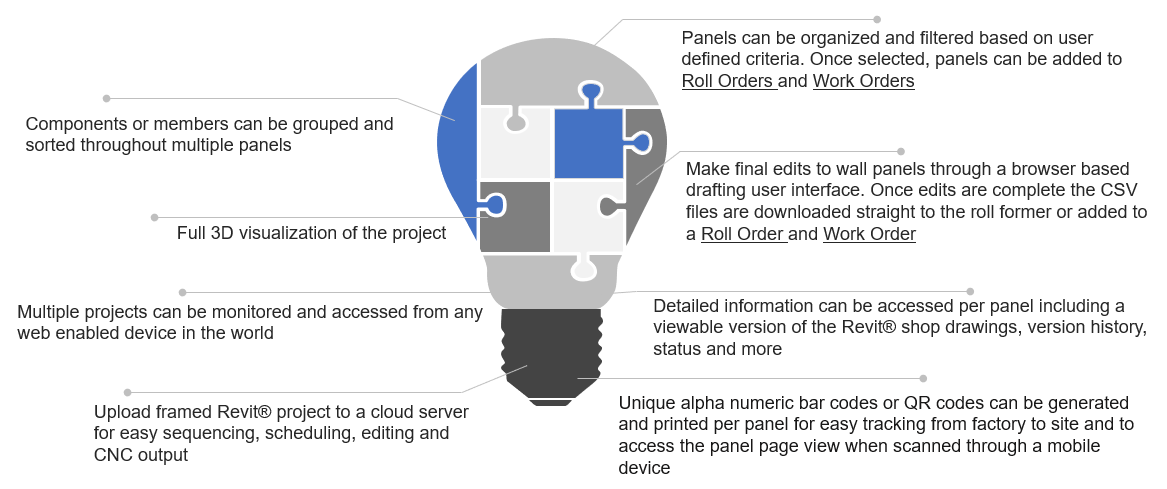 CNC Operations Editor